vouchers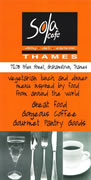 Attractively presented gift vouchers to the value of your choice are available from the cafe. You can also phone or email us and we'll mail them.
Gift vouchers may not be wholly or partially exchanged for cash and may not be reissued if lost or stolen.
Gift Vouchers may not be accepted 6 months after date of purchase.