art exhibitions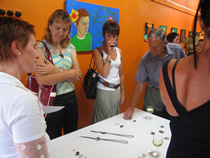 Over the years Sola Cafe has hosted many great art exhibitions and art events. The space is vibrantly coloured and is a great backdrop for local artists to showcase their work. With the large flow of people in and out of the cafe their work gets maximum exposure which is essential for many emerging artists.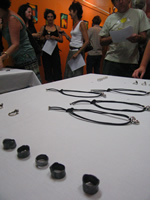 The exhibitions change on average once a month with openings or previews being organised by the artists themselves when possible. If you wish to be added to Sola's exhibition invitation list or would like to find out about exhibiting with us, please contact Kate Ewing with your details and or questions.
Below are some of the exciting artists that are regular exhibitors at Sola cafe.
Kate Ewing - necklace: 925 stg silver and marine cord

Amanda Ewing - Huia and Woman: oil on canvas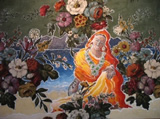 Kane Lowry - Mother: acrylic and fabric

Pamela Plummer - Untitled: oil on canvas

Heather Russell-Willson - One Tree: acrylic and shellac