about us
Sola Cafe has been open since December 2001.
Owner operators Kate Ewing and Clare Rodley share the management of the cafe which is open 7 days 8am - 4pm.
On average they employ a team of 8 - 10 people depending on the season.
Clare Rodley - co-owner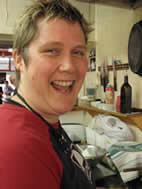 Clare has worked as a chef for most of her working career. She has an incredible passion for good food (alongside motorbikes and cats!) Clare worked for ten years in Sydney and gained considerable knowledge from some of Sydney's top chefs. She has cooked in a variety of restaurants including Mexican, Italian, Spanish, and Malaysian. Her food is always unpretentious, yummy and creative. At Sola she works as part- time manager, barista, and chef.
Kate Ewing - co-owner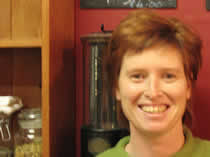 Kate is a trained contemporary jeweller by trade . She ran her own jewellery gallery in Christchurch for seven years before attending Sydney College of the Arts and gaining an honours degree in a Bachelor of Visual Arts. While in Australia she also worked in the hospitality industry to support herself, skills which she was then able to utilise for the Sola Cafe project. She works as part-time manager of the cafe, barista, and cook, with the remaining time she makes jewellery in her Martha Street Studio situated at the rear of the cafe.
Amanda Ewing - co-founder

Amanda Ewing, Kate's sister, was a founding member of Sola and bought her design ideas alive in the cafe's colour, shop front design, signage and advertising. On opening Amanda's main concern was coffee, as she strove to make excellent espresso using Altezanos house blend. Amanda left the partnership to care for her new baby, and now enjoys being a part-time barista and member of the greater Sola family.